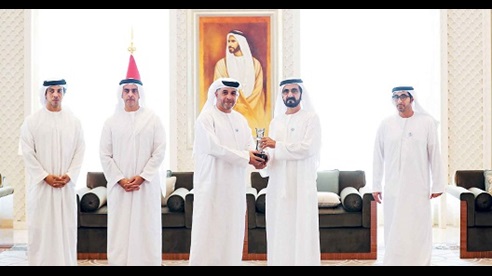 UAB wins first place amongst Medium Enterprises for recruiting Emiratis and has received the prestigious award from the Ministry of Human Resources & Emiratization in recognition of the bank's efforts towards development of the Emirati community in the financial services industry.
This award underlines UAB's commitment towards achieving the best Emiratization level among its peers. Winning this award is an honour to UAB and its Human Capital Department and reflects UAB's strategy to ensuring sustainability of the UAE economy by developing tomorrow's leaders through enhancing the skills of UAE Nationals. The bank adopts a vigorous approach towards Emiratization, aligned to its financial objectives. The Award was presented by H.H. Sheikh Mohammed bin Rashid Al Maktoum, the Vice President and Prime Minister of the United Arab Emirates, and Ruler of the Emirate of Dubai, and received by our ACEO Sheikh Mohamed bin Abdulla Al Nuaimi.
To view more UAB news, please click here.