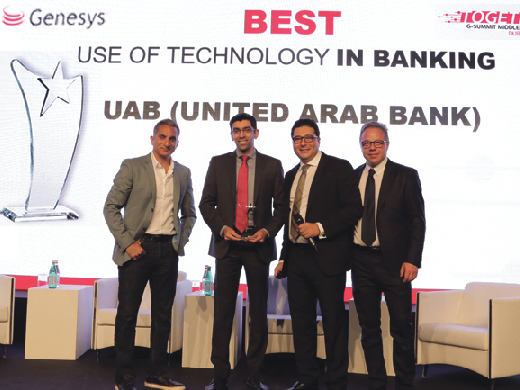 Sharjah, UAE, 10th June 2017- United Arab Bank P.J.S.C ("UAB" or "the Bank") has received a Genesys Middle East Award 2017 in the Best Use of Technology in the Banking Sector category. The bank was selected for this prestigious award for its efforts in enhancing customer experience, namely by expanding the capacity of its call center, as well as the productivity of its agents, and enhancing the overall quality of call centers services.
The award was received by Ravi Bhatia, Head of Digital Banking at UAB, from Mohamed Afifi, Regional Director of Genesys Middle East, and Paolo Mariottini, Vice President of Genesys Italy and Middle East. The award ceremony was held on the sidelines of the Genesys Middle East Summit, held lately at Armani Hotel Dubai.
Commenting on this, Izzidin Abusalameh, Chief Operating Officer at UAB, said that the prestigious award adds to UAB's strong track record of achievements and excellence accolades, which reflect the bank's commitment to quality and highest standards in services and products that exceed customers' expectations.
Abusalameh reaffirmed the keenness of UAB to adopt cutting-edge solutions to assure customers' needs are met, especially in terms of quick and efficient communications. This, Abusalameh added, affirms the bank's advanced position in the sector, and the success of its customer-focused strategy.
Commenting on this, Ravi Bhatia, Head of Digital Banking at UAB, highlighted that the award recognizes UAB's efforts to achieve excellence and maintain its pioneering position in offering advanced services that focus on efficiency and reliability in a highly competitive market known for adopting latest technology and solutions in the world.
For his part, Mohamed Afifi, Managing Director of Genesys Middle East said: Today's consumers are increasingly sophisticated and already accustomed to targeted offerings from businesses. With omnichannel banking, customers will have a consistent experience whether accessing their bank via a mobile, tablet or visiting a branch in person. If the banks don't step up and provide this omnichannel experience, there are plenty of other institutions who unencumbered by legacy systems and cultures, are already relishing the opportunity. It is great to see how Genesys solutions helped 'United Arab Bank', a major Bank in region deliver great customer experience to their customers across multiple channels.'
The Genesys Middle East Summit is one of the leading annual events in the region. The summit joins a group of highly acclaimed international experts and thought leaders, who meet to discuss the latest advances in innovation and omnichannel customer experience, as well as new generation customer experience solutions.
Genesys is a leading international provider of omnichannel customer experience and contact center solutions, on-premise and in the cloud. The company was named a Worldwide Leader by Gartner Magic Quadrant for Contact Center Infrastructure in 2017, for the 9th consecutive year. Over 10.000companies in 100+ countries around the world trust Genesys customer experience platform.
To view more UAB news, please click here.