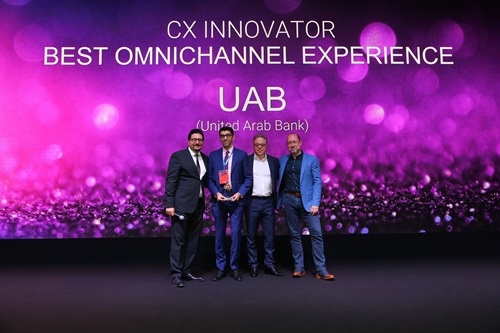 At the 2019 Genesys G-Summit Middle East 2019 held on Apr 24 in Dubai, UAB won "CX Innovator – Best Omnichannel Experience" award. This regional award was given to UAB for its seamless omnichannel capabilities over a variety of channels such as web, voice, digital, and email that seamlessly connect with each other. This resulted in better digitally engaged customers, streamlined customer service & improved business performance. UAB was the only banking institution to be recognized at the event this year.
The award was handed over to Mr. Ravi Bhatia, Vice President, Head of Digital Banking, by Mr. Mohamed Afifi - Managing Director Genesys Middle East, Mr. Merijn to Booji - CMO Genesys & Mr. Dhunji Bilimoria - VP EMEA – Channel Genesys.
To know more about this, click here.
To view more UAB news, please click here.