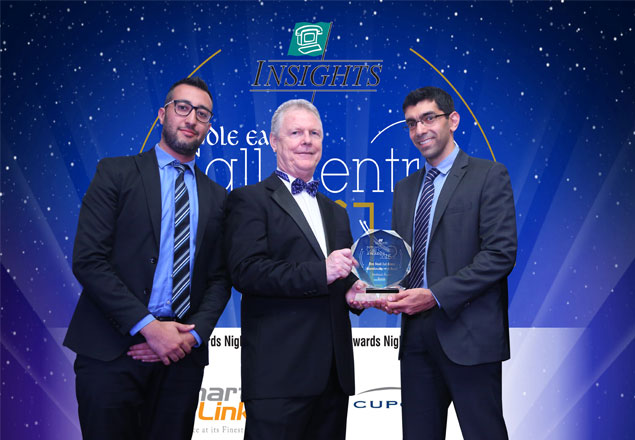 June 20 2015, Sharjah, UAE: United Arab's Bank's call centre has been named the best of its kind in the Middle East, at INSIGHTS' Annual Middle East Call Centre 2015 Awards. UAB received the award in the 'small call centre' category, open to organizations operating in any industry in the Middle East region.
The award was presented by Dominick Keenaghan, President of INSIGHT, to UAB's Ravi Bhatia, Assistant Vice President, Alternative Channels, and Firas Abu Hasan, Senior Manager, Alternative Channels, at a ceremony at the Crown Plaza Hotel in Dubai.
INSIGHTS awards, first launched a decade ago, are among the most highly valued in the region's call centre sector. UAB's call centre was judged to be the "Best Small Call Centre" in the Middle East based on a multitude of parameters, from the clarity of its vision and its strategic alignment with the overall strategy of the bank, to its work environment and culture, the values it exhibits in its everyday activities, the importance given to operational efficiency towards customer satisfaction, and the feedback received through mystery calling.
To view more UAB news, please click here.