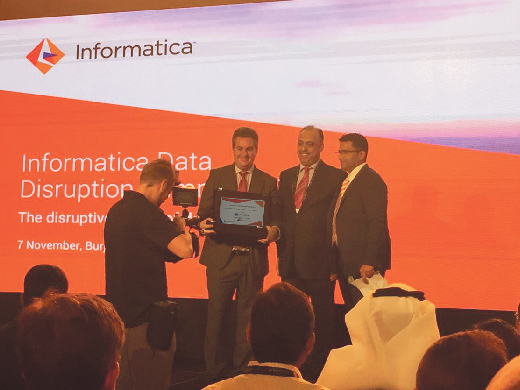 The award recognizes United Arab Bank's innovative achievements in data management and digital transformation
Sharjah, United Arab Emirates United Arab Bank has been awarded the 2017 Innovation Award by American enterprise data management company Informatica. The bank won in the category of Driving Mission Critical Operations with Informatica, in recognition of its achievements in driving mission critical operations by building an intelligent Data Management platform and leveraging the Data Management products within the operations.
The coveted award was received by Izzidin Abusalameh, Chief Operating Officer of United Arab Bank at Informatica Data Disruption summit held on November 7 th at the Burj Al Arab, and was presented by Kashif Rafique, Managing Director of Informatica Middle East and Africa and Emilio Valdes, Vice President of Informatica EMEA South.
Commenting on the award, Izzidin Abusalameh said "Winning Informatica's 2017 Innovation Award is testament to United Arab Bank's leading position as an innovator in the realm of banking sector data, and is in line with our Digital Transformation strategy. Partnering with Informatica as part of this journey, has helped us discover, access, integrate, and deliver critical data, reliably and at scale, to streamline analytics and critical operations, in addition to aiding us in the establishment of a single layer of integration across diverse applications throughout the enterprise."
On his part, Kashif Rafique said: "United Arab Bank has always been committed to building sustainable long-term partnerships with its customers, and to adopting an innovative banking approach while remaining loyal to the UAE's heritage. United Arab Bank partnered with Informatica end of the first quarter of 2017 and has already made tremendous progress towards achieving its digital and data-driven transformation vision, with the Informatica Data Management platform."
To view more UAB awards, please click here.